RMCC 2012 Centenary Cup
Congratulations to our finalists!
Bonspiel Information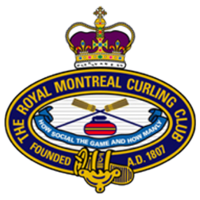 The Royal Montreal Curling Club
Centenary Bonspiel
This is an invitational bonspiel which was initiated in 1907 to commemorate the 100th Anniversary of the Club and has been hosted every year since then. It is held the first week in January for a period of 8-10 days, and in 2012 will be played starting January 4th and continuing until the championship final on January 14th. The winner is awarded the coveted Centenary Cup, which remains in the Club on display in our trophy case with the names of each winner inscribed on the cup. Individual members of the winning rink are each given an inscribed championship pin as a personal acknowledgement of their success in this Bonspiel.
The format has been modified only slightly over the years; it is open to male and female curlers, and is restricted to 32 teams. Invited rinks normally return to participate each year, as for many of them this is an opportunity to compete and renew the fellowship of curlers from other Clubs that they may see only once per year. Given its popularity, this Bonspiel is traditionally fully subscribed, with a waiting list of rinks who would welcome an invitation should openings occur.
Curlers are guaranteed a minimum of 3 matches, starting on Wednesday, Thursday or Friday evening, with curling scheduled throughout the day on Saturday and Sunday, and continuing throughout the week during the evenings. One of the highlights of this event is the Traditional Luncheon which is offered on the first Saturday of the Bonspiel where participants are served a meal that is prepared in the same manner that has been offered at the Club over its 200+ year history, followed up by a lively address from an invited guest, normally someone who is well known in the sporting community.
If you would like further information on this event, we would encourage you to contact the Club, or communicate directly with the Centenary Bonspiel Chairman Mr. Stephane Perron at 514-994-6018 or by email at sperronac@gmail.com.
2011-12-10 1:35pm
4351 views in the last 2837 days.